There are a lot of big decisions to make when planning your wedding and choosing your wedding gown and bridesmaid dresses can be one of the hardest but most enjoyable experiences. Your bridal party is made up of your nearest and dearest and you want them to feel fabulous during your wedding celebrations.
Choosing the right bridesmaid dresses will need to be done once the bridal gown has been selected. The dresses should complement and not overpower the wedding gown and this can be a fine line. By this stage you will have already chosen your main colour theme and style for your wedding. This colour should be incorporated throughout your wedding for a flow on effect; from your stationary, theming, cake and of course the bridesmaid dresses. The colour of the dresses should therefore either be the same colour used throughout the wedding style or one that complements it.
An option that's becoming more popular is varying the dress for each of your gal pals. This can be achieved in one of two ways; with one style of dress for all of the girls but in different colours, or with each girl in their own unique dress in varied shades of the same colour palette. You could then opt to have the same shoes and bouquets for your bridal party to keep some similarity between them. This is a great way of creating a less stressful experience as your bridesmaids will then be able to incorporate their own personal style into their combination that will leave them exuding confidence.
A lot of brides still tend to turn to the same style and colour dress for the whole wedding party. This option photographs really well as the groomsmen are all in the same style of suit and each partner then matches up evenly throughout the bridal party.
By far, the best tip for choosing your bridesmaid dresses is enjoying the time with your best friends as you shop and check out lots of different options. So get the girls together with a bottle of bubbly, let the good times roll and make sure you can say seriously "You'll wear it again, I promise".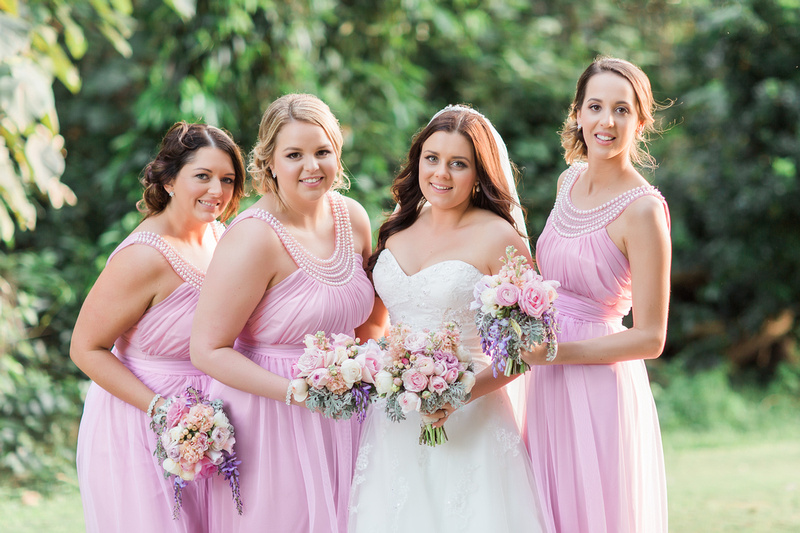 Image by Raconteur Photography
Image by Matt Rowe Photography